7 minute read
Brazil tends to be defined as a rapidly developing economy with a strong focus on biofuel and technological development. Alas, for some socio-economic and cultural factors, it fails to take advantage of its communicative nature and gain an image of an innovative giant in the global marketplace. Attracting FDI, enforcing open source innovation, and creating tech hubs and financial programs are only some examples of how Brazil attempts to overcome its difficulties to be truly called "an economic miracle."
Brazilian economy
in facts and questions
Brazilians tend to be known as highly emotional and communicative – being expressive is an essential element of their business culture. Apart from some difficulties in creating business partnerships internationally, Brazilians view connections and interactions as a trigger of innovation. For example, 88% of them consider that innovation is becoming vehemently communicative while 60% of Brazilian directors underline paramount importance of networking and social media for economic growth. Today, Brazil has the third place in the world for a number of Facebook users, and in 2017 it was 86.52 million while this number is predicted to reach 104.1 million in 2022. Some accounts belong to start-ups and SMEs, and this fact totally reshapes the modern understanding of a connection between social media and innovation. Google defines the countries with[nbsp]such features as "default to open" that means adaptiveness, and one of the most cost-effective approaches to acquire innovation. However, despite its high potential, Brazil is only ranked 70th and 99th in Global Innovation Index 2015 and Innovation Efficiency Ratio 2015 respectively. Evaluating Brazilian market and discovering its challenges and benefits are the only ways to determine the existence of this substantial gap between expectations and reality.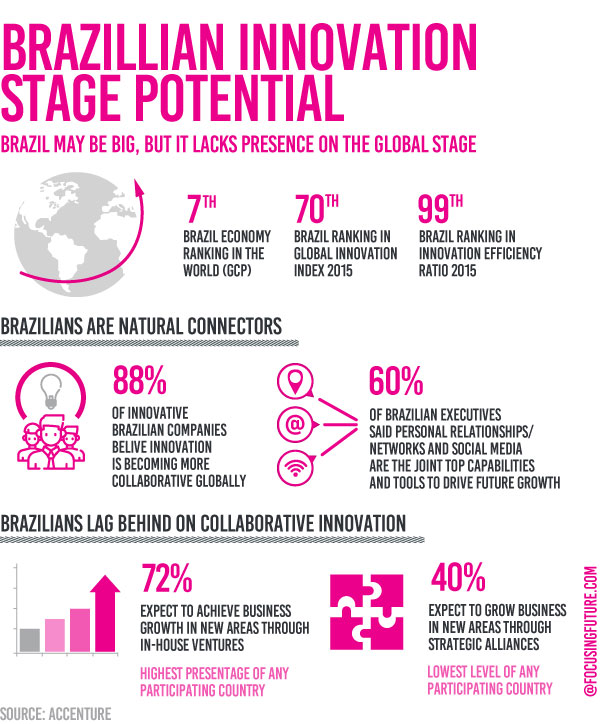 Economical miracle:
technological and energetic potential
The Brazilian economy is represented by the energy sector in the international arena, and biofuel export has a dramatic impact on country's GDP growth. The biodiesel market itself is one of the most valuable in Brazil, and the market is rather vast with 63 authorized plants working in this segment. Its growth projections are positive with potential 10% growth by 2019. In turn, Brazil is popular worldwide its sugarcane ethanol. In 2016, 666.8 million of sugarcane was produced making Brazil an international leader in sugar production. Brazilian emphasis on export and manufacturing of sugarcane ethanol is not only triggered by the possibility to reduce the consumption of petroleum but also its cost-effectiveness and eco-friendliness. In fact, researchers discovered that sugarcane ethanol decreases greenhouse gas emissions by 90%, and this fact makes a leader in the biofuel market. Today, Brazil is responsible for 60% of ethanol production in the globe, and it also attempts to bring active consumption of sugarcane ethanol to the international arena by trying to engage Belgium and the USA in this venture.
Apart from shifting GDP in a positive direction, ethanol sugarcane had a positive impact on technological development and innovation of the country.[nbsp]The country is also well-known for the production of flex-fuel automobiles since 1970, 70% of Brazilians use these vehicles on an everyday basis. It clearly reduces the dependence of Brazilian economy on the gasoline prices while providing it a well-defined pathway to innovation. In the recent future, Brazilian government wants to pursue this bioenergy route and get even more power from sugarcane ethanol by discovering new approaches to extraction. This new method enables the production of cellulosic ethanol that can be manufactured from a variety of raw materials while doubling the volume of currently extracted sugarcane ethanol. GranBio and Raizen already started this process on the commercial level.
A combination of these factors along with market size makes Brazil highly attractive to FDIs, and the major triggers pertain to its rapidly developing biofuel segment, large market size, and favorable geographical location. Another positive sign for investors is the fact that not only cleantech is developing. The growth of telecommunication market, $38 billion in 2016, and the recovery of footwear and apparel industry are the key reflections of the current innovation and business-orientation of the country. What does actually prevent Brazil from growth and international dominance?
What is Brazilian future?
Brazil is literally soaking in innovation but fails to deliver it to the global market. Unreasonably high tax rates, insufficient labor policymaking and regulations, corruption, and complex bureaucratic system are only some factors that create obstacles for foreign investors and economic dominance, according to Global Competitiveness Index Report 2017. The consequences of the lack of decent policymaking lead to decrease in demands for biofuel, the goldmine of the country, as the prices for petrol were kept artificially low. These actions resulted in inflation and bankruptcies while transferring country into recession stage.
Brazilian government spotted an opportunity in this problem and decided to embrace the economic fluctuations and challenges to flourish. To control the speed of the economic decline, it introduced "Innovation for Growth Program". The major goal of[nbsp]the initiative is to cherish innovation in the desired segments of the Brazilian economy by attracting additional finances from Financiadora de Estudos e Projectos and the Inter-American Development Bank. The total investment now accounts for $703.6 million, and these resources will be devoted to the development of incubators and accelerators while embedding open innovation into Brazilian culture.
Global Innovation Hub
Investing in R[&]D and innovation hubs becomes a major trend describing Brazilian economy. 326,495 people work in R[&]D in Brazil, and this sector experienced growth from $11.8 billion in 2014 to $12 billion in 2015. Companies like P[&]G, Capgemini, Facebook, and IFC launched their innovation hubs in Brazil last year. The diversity of spheres from social media to healthcare clearly signals that more talents will be taught and it will give a boost to the national economy in the upcoming time.
Porto Digital, one of the well-known hubs in Sao Paulo, and it is one of the bright examples how governments attempt to embrace creativity and open innovation by introducing a platform for continuous development. It is one of the largest tech parks in Latin America giving opportunities for SMEs. Along with that, big companies like Natura started their investment in R[&]D and ended up developing an educational laboratory in the United States. Developments portray that only using a synergy of unique traits of Brazilian nation and governmental support can help the country take advantage of its innovative capacity and become an epicenter of flourishment and technological worshiping.
The seventh position in the world regarding GDP value defines the fact that Brazil is moving in a positive direction with its business initiatives. Its attractiveness to FDI and innovation-orientation are the main definers of Brazil as an economic miracle. Flexibility, openness to innovation, and adaptability make it similar to Korean way of fostering economic growth. Its unique way of collaborations and connections, great innovation capacity, and extensive market size make Brazil truly unique and capable of gaining dominating positions in the global arena. Alas, the existence of economic drawbacks such as corruption questions its attractiveness to investors and economic growth as a whole.