5 minute read
Can you imagine your day without the water? How long agriculture will satisfy demand without the water? There is no doubt that water is an essential for life. Globally, the volume of renewable water per capita has declined by 40% in the last 22 years while demand is growing with the population. This article explores the future of water.
Escaping the drought
Global trends like rapid population growth, need for water quality improvements, climate change, and aging, contribute to growing demand for clean water. Water is vital for economic growth and primary survival. Even though the global water reserve is quite large, only 10% of freshwater is suitable for drinking, agriculture, and industrial use. Water distribution is highly dependent on geography. For example, while the supply of water annually per person in the US is same as in Switzerland, Miami has a shortage of water, when Minnesota has no troubles satisfying its needs. In fact, in early 2014, there was a peak of exceptional drought in California, and southeastern Brazil is currently undergoing the worst drought in its history. The water shortage issue can be addressed from different points, let's see how to conserve water and to provide better wastewater treatment solutions.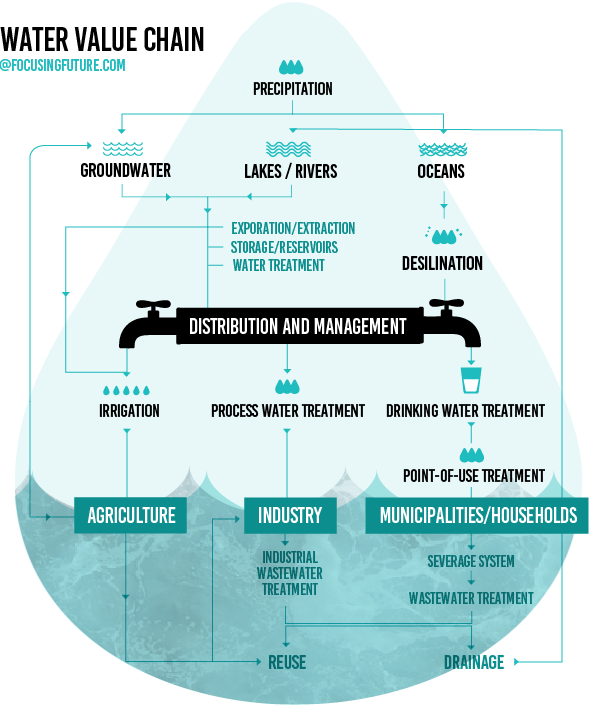 Agriculture
as a water monster
Water withdrawal is expected to double by 2030 reaching 6,900 km3 worldwide. Currently, 70% of available water is used by agriculture. Africa and Asia utilizing more than 80 percent for agriculture, while North America and Europe spend twice of that. The biggest share of water in the developed economies flows into industrial use. Similar water distribution is to be expected from emerging economies by 2030.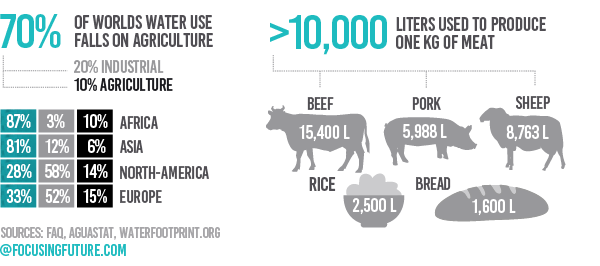 How to lower the demand for agriculture and increase the supply of freshwater? Robotization can be the answer for water conservation in agriculture. Robots and controlled environment can reduce the water usage in times. "The more mechanized farming becomes, the more urbanites fetishise traditional farming and country living," says chief executive of the Addington Fund, Ian Bell. "We already see a growing market of wealthy rural incomers willing to pay a premium for craftsmanship and artisanally produced foods. If you can work out how to use tech to minimize overheads while providing services in that area, you can make a lot more money than you will growing lettuce." The SPREAD vegetable farm – 4,400 m2 warehouse-like robotic farm to be built outside of Tokyo. The farm will be monitored by sensors, data analysis, and satellite mapping providing more efficient water use. Similar projects are becoming more common all around the world. However, the controlled farming environment is mostly located in developed countries, while the biggest water use for agriculture falls on agriculture driven economies in emerging countries. Therefore, more investments should be made to Africa and the Middle East where water shortage is an ongoing issue.
USDA is ready to invest $25 Million in conservation innovation grants. "Conservation Innovation Grants have played a critical role in developing and implementing creative new methods to conserve the nation's private agricultural lands and strengthening rural communities," said Agriculture Secretary Tom Vilsack. "Today's announcement builds on our support of technologies and approaches that help producers increase resiliency to extreme weather such as drought and floods."
From the other side, the solution might be hiding in the eating habits. Change in eating habits towards vegetarian diet has a potential to lower water consumption. Producing one kilogram of meat requires up to 10 times more water than rice or wheat. Water conservation in agriculture has a potential to redistribute available water to other sources. Moreover, lowering the livestock will decrease the carbon footprint. According to Rabobank, innovation in food and agriculture is the only way to feed a population of 8 billion people by 2030 and 12 billion by 2100.
Wastewater treatment
Wastewater treatment is starting a new era. The way water travels in the urban areas, rural, and manufacturing impacts the whole ecosystem. In is essential to handle wastewater and transform in the reusable commodity. Innovation platform for the[nbsp]industry is expanding rapidly. Scientists and startups cooperate closely to provide the best solutions for water purification. One of the examples is a solution by Arivia Technologies. Organics Destruction Cell by Arvia Technology is a tertiary treatment step for the removal of micro-pollutants from wastewater, allowing for water reuse or zero liquid discharge by industrial users, or simply for micro-pollutant-free water effluent."As a result, the energy used for oxidation is proportional to the amount of organic to be treated, rather than the volume of wastewater. Therefore, the Arvia ODC system is ideal for removal of organic pollutants at low concentrations, including at ppb level." This innovation can provide a closed water system for industrial use.
The world can witness more and more upgrades of wastewater plants towards more efficient and sustainable future. Hamilton wastewater treatment plant, Canada, after $158 million upgrade can provide up to 56 Olympic-sized swimming pools worth of clean water into the Hamilton harbor every single day. The world's largest wastewater plant in Chicago pumps sewage into power. According to the Water Environment Research Foundation, wastewater plants are extremely energy demanding. Novel technology of anaerobic digestion when bacteria breaks down wastewater components to form natural gas will make plant energy neutral.