5 minute read
In the past, the beauty market was full of stereotypes and racial exclusion. However, recent years have shown that the industry is eager to diminish limitations and ready to include diversity, which in turn fosters its growth. Customization and hi-tech are now popular and quickly evolving trends that attempt to give a priority to inclusivity in the beauty industry. The tendencies can be visible by Rihanna's interracial beauty product line and MatchCo fills this gap by enabling personalized foundations.
Beauty industry
in facts and problems
The beauty market is expected to show positive dynamics in the upcoming future. The leading positions are taken by the international brands such as L'Oréal, Nivea, and Clinique. Moreover, due to its escalating popularity, the consumption of make-up solely was $301.7 billion in 2017 while it is expected to reach the value of $344.4 billion in 2021. These numbers may seem extreme but rather realistic if you open and truly discover Pandora's beauty box. Today, the domination of Millennials, so-called generation of experimenters and innovators, clearly explains this trend and the fact that 15% of total beauty industry accounts for make-up products. They often refer themselves to as "make-up enthusiasts" and their morning beauty routine may include at least 15 products and take on average 30 minutes, as marked in the New York Times.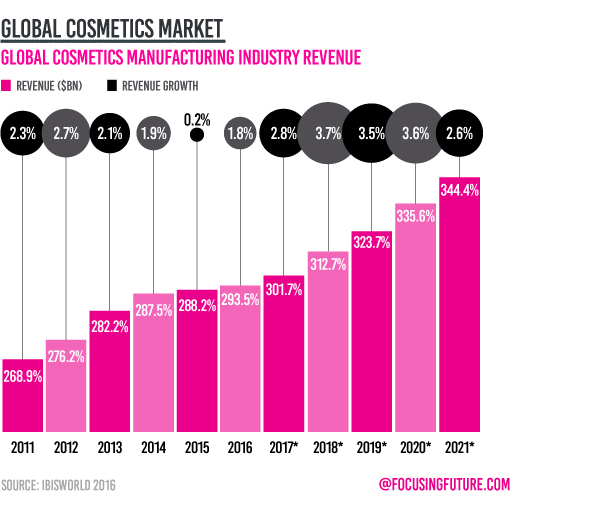 Thus, another major trend pertains to the change in mindset. Now, women are encouraged to pay more attention to their unique features than to physical flaws and imperfections, Camillo Pane, the CEO of Cody, claims. Beauty loses its stereotyped definition while giving more attention to spirituality and self-awareness. Therefore, cosmetic companies started to use models with unique features rather than being in line with beauty stereotypes. Chantelle Winnie Harlow is only one of the examples. She was diagnosed with Vitiligo and it implies uneven skin pigmentation and its de-pigmentation in some its parts. Thus, this condition did not stop her from participating in America's Next Top Model and representing Chanel during several fashion weeks. Khodia Diop, the African Senegalese model, is also conquering people's hearts around the world with her exceptional beauty.
Beauty for all:
breaking inequalities
Some makeup brands spotted an opportunity in the idea of inclusivity and making customizable cosmetics their unique competitive advantage. Offering customizable foundations for different skin tones put them in front the rest of the rivalry and made them leaders of the interracial make-up with no boundaries. Thus, these changes not only cater the needs of the growing market but also attempt to deliver a certain message. For example, by introducing Fenty Beauty, Rihanna wanted to give "things that girls of all skin tones could fall in love with". This brand promotes the philosophy of inclusivity, diversity, and interracial beauty standards, as 40 different shades with self-descriptive names are currently available under this brand. Development of these business ideas not only creates new market niche but also changes the stereotyped beauty standards.
Male grooming
on rise
Speaking of male make-up trends, the grooming industry also experiences upsurge. Only for the last year, its total value accounted for $50bn. The leading positions are currently taken by Procter [&] Gamble and Unilever with $11.2bn and $5.1bn values respectively. It is majorly triggered by product line extension, as, now, moisturizers, body hair removals, and concealers are available for this gender group. Thus, this trend exists since male beauty products are believed to support "manlishness" and create the desired look. For example, beard is one of the symbols of masculinity, and Zeus is one of the brands provides the essentials for beard care.
The companies like L'Oréal and Maybelline have already spotted this diversity and embraced it. For example, in the advertisement of Maybelline's Big Shot Mascara, the company features a male drag model, Manny Gutierrez, who believes that make-up has to be "genderLESS". Thus, the popularization of make-up products is not only driven by the actions of the beauty brands but also by social personas like drag performer RuPaul. This persona is famous for his RuPaul's Drag Race Show. He has an immense impact on the make-up market and creates his own art empire. Now, this key drag performer is featured on magazine covers while supporting self-expression among men and creating escalating demand for male grooming product lines. The actions of RuPaul along with beauty brands signify the possible growth of this consumer segment and underline the need to go beyond conventional man products. Expanding these boundaries will help the beauty industry look proudly into the future.
High-tech blends
with customization
Apparently, the era of information technology and innovation does not stay away from make-up customization. Before that, it was only possible to dream of a mirror or phone app that can conduct a profound analysis of skin or precisely define your skin tone. These gadgets seemed to be only possible in science fiction movies and books, but, now, they are the reality. MatchCo defines the color of the skin and creates a personalized foundation. The process is rather simple – only 5 skin scans are required, and after that – a unique product is generated! The development of this product is an illustration of how artificial intelligence, hi-tech, and beauty industry can co-exist and create a well-defined pathway to the culture of inclusivity with no interracial prejudice.