6 minute read
The future workforce is built on the values of purpose and empowerment. New frameworks help to manage teams and align employers' ambitions with a company's strategy. Therefore, firms experiment with the creative freedom, which results in both failures and successes. The key remains in setting loose ground rules to guide productivity. And, last by not least, do companies realise the benefit of having happy employees?
The future employee
As millennials and Gen Z will make up 75% of the global workforce by 2025, it is time get to know their working habits and ways to make the new workforce as productive as possible. In comparison to previous generations, millennials are more active in their self-development and enjoy collaborative teamwork. They want to be empowered by their bosses as they keep seeking new challenges. Moreover, the line between work and private life disappears. The future workforce requires new freedoms and increased diversity of collaboration and tasks. Nevertheless, the autonomy of making decisions is best realized when values and strategic goals are shared among the company. Organisations need to provide possibilities to actualize the changing values in order to ensure high levels of productivity and quality. 85% of millennials who align with the values of the company plan to stay in the current workplace for another five years. Mara Swan, Executive Vice President, ManpowerGroup, Global Strategy and Talent, comments: "Millennials are used to a faster-paced world and…they want varied careers that progress more quickly."
Research towards new corporate cultures has been growing in the last decade. According to Ranjay Gulati, a professor at Harvard Business School, freedom within a work environment includes personal freedom and the freedom to be empowered. Empowerment refers to the company trusting an employee to act independently for the benefit of their cause. Conversely, personal freedom results from allowing employees to express themselves and to find fulfillment. EY reports that Millennials value increased flexibility and paid parental leave more than other generations. Thus, those benefits have a positive impact on engagement and productivity.
Creativity:
freedom or trap?
Companies have started to provide the privilege of freedom to their workers. The leaders at Netflix, for example, believe best performances are produced when staff can freely work on their own ideas as long as they are within the company's philosophy and priorities. A blend of freedom and responsibility has enabled Netflix to grow as a company from a mail-order video-rental service to a worldwide online entertainment provider of over 100 million subscribers, as well as a TV and film producer. The former Chief Talent Officer of Netflix said: "To my mind, people across the full spectrum of functions would love nothing more than to be free to tackle projects in the way they think will produce the best results in the shortest possible time. So often, though, they are thwarted by management second-guessing them or by inefficient systems."
With all the benefits of autonomy, how can companies ensure that their staff members do what they are supposed to? Google is known for its extensive employee benefits with on-site gyms and complimentary meals, and most importantly, creative freedom. According to a former staff member at Google, however, creative freedom can guide productivity toward personal interests rather than those of the employer. Infinite freedom can, thus, reduce an individual's interest to carry out necessary projects that do not offer them new challenges.
Guiding frameworks
Broad guidelines simultaneously allow freedom and ensure that the mission of the firm is followed. Thus, to enable employee freedom, companies need to establish frameworks that support superior judgments. According to the Harvard Business review, these structures are built from three main elements. Initially, teams need to establish their purpose, a single shared goal. This gives direction and meaning to the staff and is often the reason why employees work for specific employers. Priorities, behavioral rules that reflect the company's goals, need to be set to provide knowledge on how to act in the interests of the corporation and use their resources wisely. Finally, principles are built based on the purpose and priorities to be positive guidelines for action. These should be defined based on feedback and need to apply to more than one situation.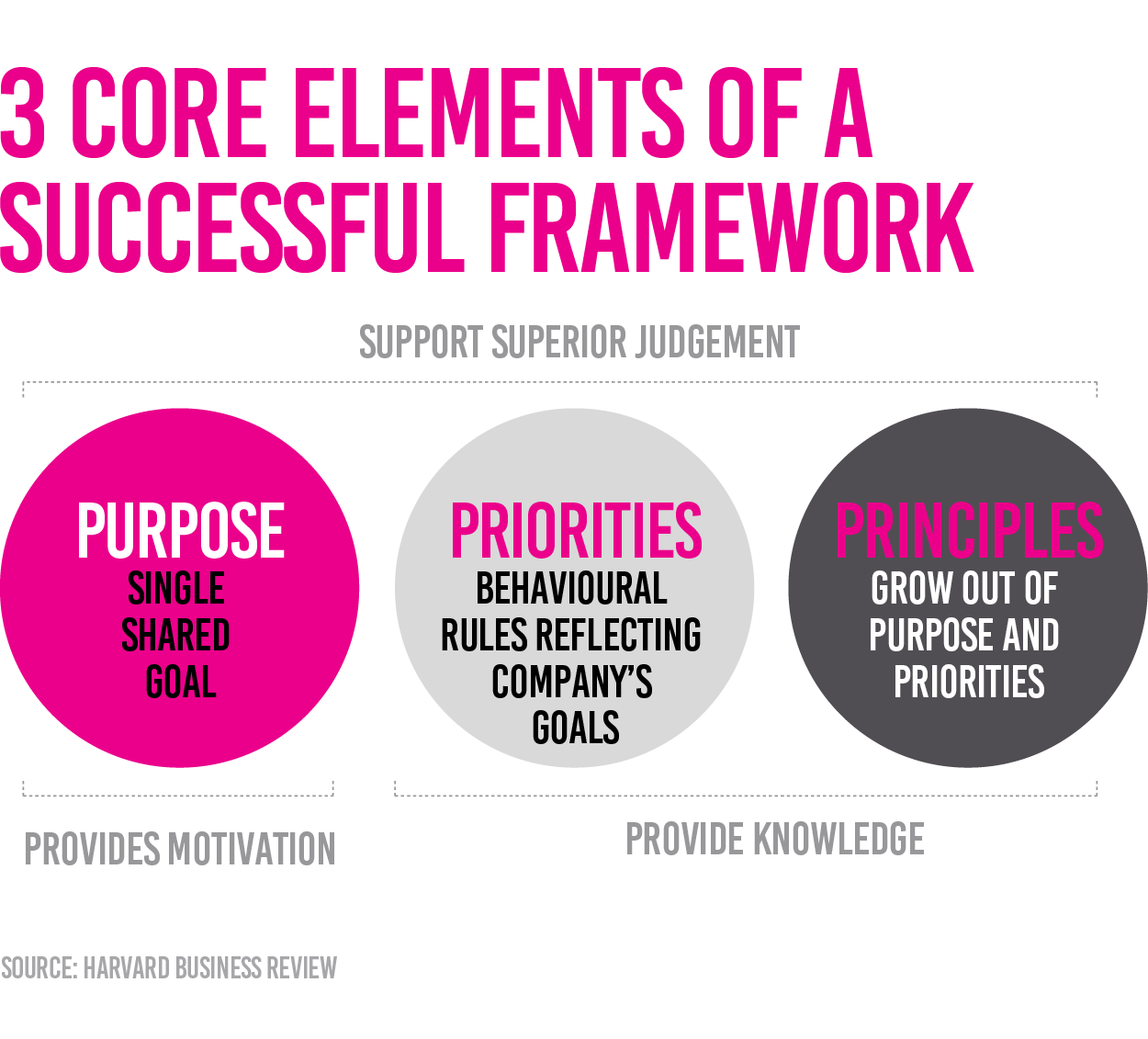 A good example of this kind of a framework can be seen in Alaska Airlines. Their mission is deeply customer-centered. However, employees need to be given enough knowledge about the culture of the organization in order to align their decisions for the gain of the company. To do this, Alaska Airlines created a training programme to help their staff internalize the core beliefs. Through workshops to understand the background of the company, as well as how employees' decision-making power related to main goals, the airline as risen to provide the highest customer satisfaction ranking of traditional airlines in 2017 among other awards.
Claire Haidar, CEO and founder at WNDYR, suggests that these frameworks guiding companies should be considered as playgrounds. "[A playground] is an interesting environment, it is highly structured and unstructured at the same time. It has a perimeter and fixed objects. Yet no one directs the behavior of those that use it," says Haidar. If a workplace is considered a playground, employees get to use their autonomy and freedom within the structure of the company's set frameworks.
Freedom as a
gateway to happiness
Studies have shown that happy employees make better employees. Low happiness levels reduce creativity and problem-solving abilities, thus reducing productivity. Conversely, the happiest workers are 155% happier with their jobs and 150% happier with their lives than their less pleased teammates. Happiness also increases energy levels by 180%, motivation by 50%, as well as makes people 108% more engaged with their jobs. Flexibility at work has been linked positively with happiness levels, and has been shown to increase productivity by 50%. Vinjaya Selvaraju, explains how empowerment adds to her happiness: "Working in a collaborative environment means being able to share my ideas openly without judgment, and being able to see how my contributions help shape the outcome of the series. I wake up every morning excited to work, and go to bed every night anxious to get up and do it all over again." Companies should thus work toward increasing the happiness of their staff, if they are to keep up productivity.