5 minute read
The aim of every business is to grow by minimising costs and maximising efficiency. This article will explore how, in the future, companies will be able to outsource their low-effort tasks to enable their employees to concentrate on more complex and rewarding tasks that promote revenue increase.
Outsourcing time-consuming tasks
Ever since the internet became open to the world, companies have been able to outsource some of their simpler routine jobs to so-called virtual assistants. These are people who can work as personal assistants, content creators, or in almost any other role that can be executed from a different place. The constant developments of technology and software, such as cloud-based file sharing networks, encrypted customer relationship management systems and virtual conference rooms, have made it even easier for this outsourcing of labour.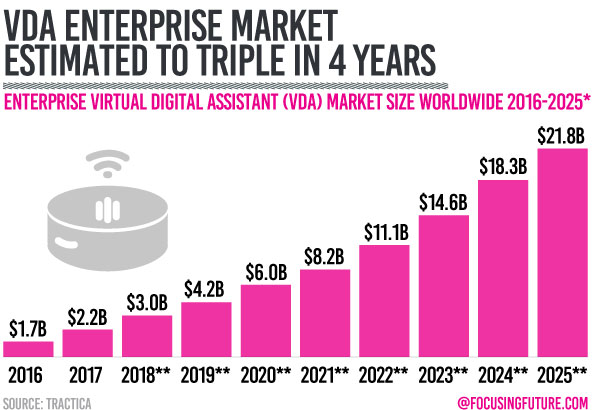 The benefits of outsourcing have been shown to improve companies' profitability by lowering the cost and increasing the revenue through efficiency. Virtual assistants can cost up to 50 per cent less than an average employee at the office. Most importantly for the growth of the company, these assistants take care of routine tasks that easily take up a lot of time, and as it all happens virtually, the assistants can provide they expertise at any time of the day. By outsourcing the tasks, employees of the company can concentrate on more complex and interesting projects, thus boosting company growth. On the other hand, these jobs have many benefits to the virtual assistants themselves as they can choose their working hours and places. For example, a stay-at-home mother can do the work from home without having to pay for day care, and a digital nomad can write a blog posts for their client while lying on the beach.
AI bringing faster quality
Gartner predicts that 30% of search queries will be made without a screen in 2020. As digital assistance is becoming more human-centred, digital virtual assistants, like Amazon's Alexa, Google's Duplex, Microsoft's Cortana or chatbots, will be replacing the jobs of human virtual assistants. By using Natural Language Processing (NLP), the technology allows users to interact with them through human conversation and without prior technical know-how. NLP consists of a range of computational techniques that enable computer programmes to analyse and synthesise both written and spoken language.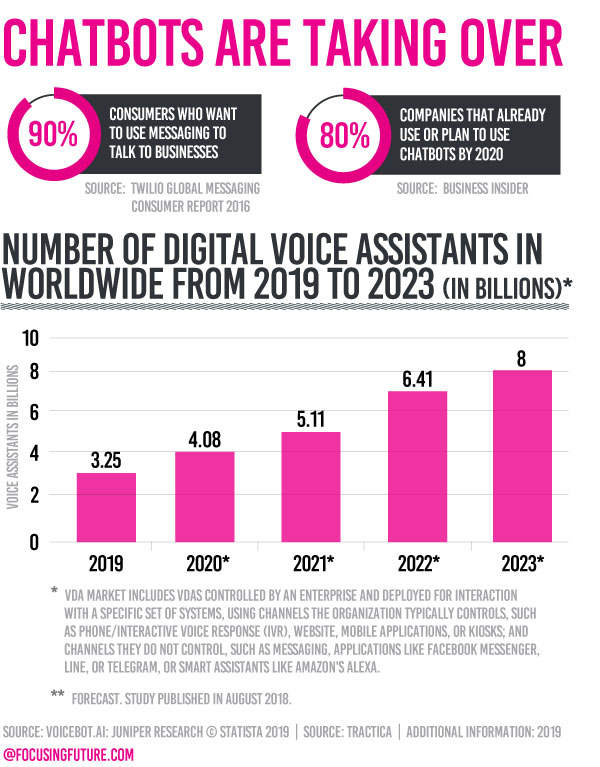 AI assistants can easily automate low-level jobs such as answering emails, organising bookings and meetings, social media monitoring, basic customer service, translating, keyword researching, and even creating content like blog-posts. For instance, AI driven personal assistant, X.AI, can arrange meetings with a level of realism that has been mistaken to be so human that it has been sent flowers and chocolates from users. Companies will no longer need to hire an outside person to do these jobs for them, as the AI will know all it needs to create customised experiences for the company's customers. No wonder that the chatbot market has been estimated to become a multibillion-dollar market by 2020. These assistants make creating an omnichannel experience easier than ever.
As the evidence of the popularity of smart-speakers and virtual assistants suggests, a conversational user experience is a natural and fast way to get things done. Tech-company, AppDynamics, has been experimenting on how to best create an "intelligent bot" to help companies grow their business. This bot would employ proactive reporting, on-demand interaction powered by NLP and automated task execution. The technology could show real-time reports of how the technology is impacting the company's operations or customers, and send alerts whenever there are changes in sales, revenue or customer activity. Thus, instead of analysing old data, companies can follow trends and changes as they happen. Additionally, the device would be able to provide context-driven recommendations of action and execute the next steps as the user wishes. As the authors illustrate: "By incorporating machine learning capabilities, the virtual assistant could also deliver prescriptive insights that help businesses detect and prevent fraud in real-time, improve retail forecasts, create more accurate pricing models, and much more."
Business growth with intelligent virtual assistants
EY conducted a case study about intelligent virtual assistants (IVAs) and their use in helping insurance companies accomplishing business growth. IVAs are powered by chatbot technology and can automatically simulate human communication, handle inquiries and service requests. The clearest benefits that the case study discovered were increased efficiency, enhanced customer experience, intelligent upselling and cross-selling, and stronger risk management.
Efficiency was increased by getting the IVAs to manage repetitive tasks, record customer inputs to avoid future repetition and provide account-specific outputs instantly, making the customer experiences more customised and efficient. Automating time-consuming processes frees human resources in marketing, sales and customer experience to concentrate on more complex queries and high-value transactions, which in turn leads to higher revenue. Customer experiences, in turn, can be made personalised, intuitive and convenient with the real-time and behavioural data that IVAs collect in the interaction with users.
When IVAs are converged with AI, machine learning and robotic process automation, they can generate new methods for gaining new customers as well as upselling and cross-selling existing customers. As said in the report, "A fully integrated system can assess and prioritize up-sell opportunities by pulling data insights from marketing, sales and other internal and external data sources. Once a qualified lead list is generated, IVAs can automatically send intelligent upselling and cross-selling messages proactively to targeted customers". Finally, IVAs reduce risk in customer communications when it has proper governance and back-end system integration, which increase efficiency and decrease human error. They also provide an auditable digital trail that can be used for compliance and regulations.