5 minute read
According to the U.S. Congress Joint Economic Committee, the fashion industry reaches up to $1.2 trillion annually. Consumerism, materialism and the desire to keep up with trends drive up the demand for fast fashion. 150 billion garments are already manufactured per annum, and this number is expected to triple by 2050. Simultaneously, eco-friendliness and ethics of the fast-fashion industry raise concerns, and people opt towards sustainable and personalized solutions. AI, robotics, ML, and innovation, in turn, raise the bar for clothing manufacturers and intensify competition. So, what is the future of fast-fashion in this polarized and ambitious environment?
To the future with high-speed personalized fashion
Almost unlimited possibilities of AI, ML, and robotics push fast fashion even further towards trendy innovative solutions. "This is especially important in the case of industries like fast fashion, where user tastes change very quickly and supply chains are usually slower to react", states Sangeet Paul Choudary, a founder of Thinking Labs. Filling this gap will reduce lead times and make a response to customer preferences more accurate and fast. With with growing appetites of shoppers and faster change of seasonal cycles, rapid delivery becomes a leading competitive advantage. Occasional shopping displaces common seasonal collections, and the fashion world enters the era of high speeds. Recently, Inditex and Fetch Robotics united to automate stock inventories, and Inditex's partnership with Intel will soon introduce a device to count the number of clothes placed in boxes. Faster fashion is an opportunity and the biggest threat, as not fast enough leaving the clothing leaders out of the game.
High personalization is also in the doorway. By 2019, it is projected that a majority of fashion companies will change their focus towards personalization. Product lines will become more customized, diversified, and cutting-edge fashionable. Constant and customer feedback will make on-time tailoring possible and the experience highly individualized and desired to be shared. Personalization is already a catchy trend among fashion giants. For example, with AI fashion designer by Amazon, clothes can comply with all customers' whims. The device uses ML at its core and develops new clothing items based on the images shown. Supported by innovation and rising demands in customized clothing, personalization is projected to intensively grow – 41% of consumers already look for more tailored solutions.
AI gets into Chinese
supply chain
In 2018, 4.22 billion meters of clothing were manufactured in China solely. This represents almost 60% of global production. In 2020, clothing consumption in China will account for 120% of Japan clothing market with a population of 127 million. Thus, Chinese economic domination in the textile industry leads to irreversible eco-issues. Producing a single T-shirt uses 2,700 liters of drinking water while around 20% of water pollution comes from fabric dyeing. Water contamination is a source of 75% of diseases causing 100,000 deaths per annum. The current conditions of Chinese ecology become silent signals to look up to responsible production and water-saving initiatives.
Integrating AI in all stages of manufacturing cycles becomes a grasp of fresh air. Fung Group and the Hong Kong University of Science and Technology are already working on creating a solution to closely control all cycles of clothing production. Automation and robotics will exceptionally improve communication, increase the safety, and help establish unified standards across the industry. The Wasatex project, conducted in EU, also found support for AI's water-saving application in the textile segment – increasing water reuse up to 90% will minimize costs, CO2 emissions, and energy consumption. With China at the heart of the world's sustainability, AI's presence in the value chain resonates across fashion business. In 2018/2019, investment in AI will account for 75% across the value chain in fast fashion. Eco-innovation is a new page in manufacturing history with efficient and sustainable production as key values.
Game-Changing
Consumer Behavior
Eco-friendliness and ethics also grab the attention of Millennials and Gen Z – over 85% of Millennials make decisions based on the company's sustainability strategy. With increasing consciousness of younger consumers, young buyers will make corporate social responsibility a new critical pillar for fast-fashion brands. The changes in consumer behavior trigger restrictions in regulations covering waste management and working conditions. Fast-fashion companies are now pressured to be sustainable and more rational in their decisions. On the other hand, Millennials' and Gen Z's behavior is highly affected by influencers such as actors and social media celebrities – 38% of youngsters look up to their brand choices. By 2020, large enterprises should have enough data to make predictions concerning customers' values. Thus, these controversies make society more polarized and tricky for fast-fashion to cater to the needs and preferences of both segments. Eco-friendliness, style, and sustainability have to co-exist in the corporate strategy to keep famous brands floating on the top of the fashion market.
Second-hand –
the agent of sustainability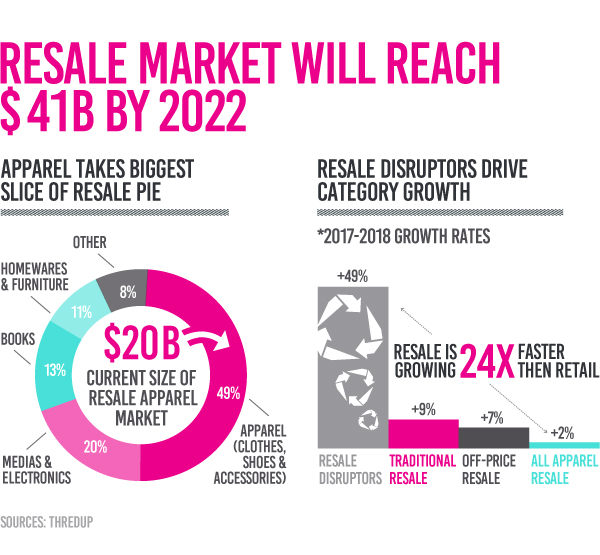 According to ThreadUp 2018 resale report, every third woman purchased second-hand goods in 2017. It is expected that resale clothes will overtake place in the closet by at least 1% from fast-fashion items by 2027. The overall second-hand market is projected to reach $41 billion in 2022, and re-usable clothes will account for 49% of this pie. In response to the rising popularity of second-hand pieces, Vaude, Haglofs, and Filippa make second-hand items a part of their brand identity by blending in used clothes in their stock. Second-hand online platforms also add a glimpse of convenience to the shopping experience and enable purchasing design and trendy clothing for the affordable price. The escalating popularity of second-hand raises responsible shopping trend among consumers. Their well-evaluated decisions make fast-fashion companies change attitude towards re-usability and consider it as a part of their identity. Awareness now becomes a new "black" among brands and consumers equally.