6 minute read
Architecture meets new challenges and is limited by space and building materials. Micro-flats and garage-apartments co-exist along with biophilic design and bio-urbanism. A combination of ancient Eastern philosophy and futuristic building techniques gives a birth to novel architectural concepts with respect to culture, philosophy and lifestyle. Meanwhile, technological advancement enables architectural pathway into open-source future. Can these innovations and traditional best practices resolve the issues with city space and eco-problems in highly populated urban areas?
Lifestyle and
Vernacular Architecture
The major challenge for architects is to make living cost-effective. Vernacular architecture embraces human needs, regionalism, cultural specifics, and usage of local materials to create affordable and unique masterpieces. Taking advantage of traditional knowledge and wisdom of local residents makes architecture a cultural diversity preserver. Buildings are perceived not as boxes of concrete and glass but as pieces of cultural heritage, sources of inspiration, regional customs, and story-tellers. The Eastern philosophy of vernacularity is self-sufficiency – adaptable to local climate, sustainable, rational, and eco-friendly. It returns magic of using local materials from the past, modifies the role of architecture in human life and gives an alternative to modern futuristic pocket flats and micro-houses.
Architecture is now a lifestyle and philosophy. Buildings become a pure reflection of one's habits, personality traits, and goals. Attic, basement, and garage are being redesigned into living spaces due to lack of space. In the USA, 40% of garage owners transform a garage into a "man cave" where men can enjoy the male's joys of life. One out of two garage owners wants to create a masterpiece that everyone envies which is accompanied by high investments. Also, the increase of home prices – in Vancouver, London, and Auckland, the value of housing raised by 47%, 54%, and 75% respectively in the last four years – makes garage conversions highly popular. More0over, shared economy allows transforming square meters into additional income. This new attitude supports freedom of creation, helps pursue the desired lifestyle, and resolves housing problem. Thus, is a future of housing a garage?
Bio-urbanism:
unity with Nature
Architecture is also a mediator between humankind and nature as perceived by Casagrande Laboratory. This construction company based in Finland combines eco-friendliness and micro-living in its sustainable and innovative concepts – nature plays a role of "co-architect" whereas the house itself is the integrity of thoughts, needs, and surroundings. Casagrange Laboratory creates unique constructions in architecture, landscape, and urban planning. Marco Casagrande, the principal designer[nbsp]and architect, takes advantage of the natural landscape to introduce quality living for humans. For example, Guandu River City in Taipei aims at addressing the problem of floods in the area, presenting harmonious co-living of humanity with nature, and starting a new era of River Urbanism.
Bjarke Ingels, Danish architect famous for its eco-designs, reflects similar values of bio-urbanism in his buildings. The Mountain in Copenhagen is designed around the mountain whereas all water accumulated from its top will turn the whole building into Cambodian-like temple ruin covered with grass. Ingels' bio-urban buildings collect solar energy, block wind, and create outstanding sceneries – make houses not only functional, but also sustainable, unique, and heritage and lifestyle reflective. The architect combined the Western vision with Eastern architectural philosophy. The building gives a breath to the urban environment via Eastern minimalism, wise usage of space, and gardens on the rooftops.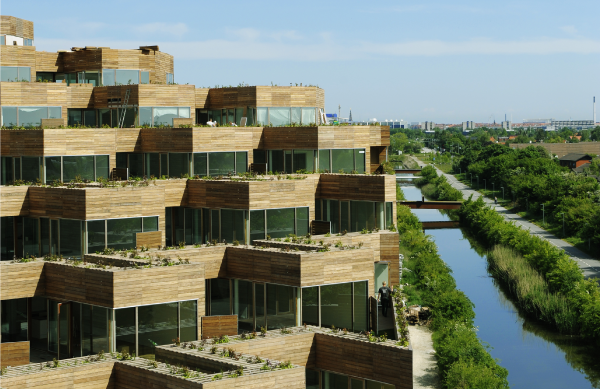 MTN – The Mountain/ Image by Jacob Boserup
Biophilic design is another alteration of bio-urbanism, and its philosophy sees the linkage between well-being and housing spaces. It turns to our natural instincts and positive attitudes towards nature via architectural structures. Plants, natural light, and natural materials already remind of Green Architecture, but biophilic architecture requires naturally embedding these elements in the interior design. In hectic lifestyle, the integrity of nature and architecture is more of a therapy whereas green areas and vegetation promote the stress-free environment, safety, and health. The Meyer Children's Hospital in Florence was recently redesigned, and its little patients are no longer scared of hospitalization, and their stay is accompanied by greenery and calmness. Nature, well-being, and architecture – are the coexisting tendencies of the future era to be soon implemented not only in homes but also in public spaces.
Digitalization for More
Sustainable Buildings
The future home can go beyond a garage and ancient temple. Technological advancement makes stylish, carefree, and sustainable living a possibility. Ecocapsule is an innovative self-sufficient and portable egg-shaped house. This autonomous building costs only $87,000 to pursue eco-friendly lifestyle. In turn, Wiki-house is a digital housing project – espousing open-source innovation, Digitalization 2.0, and localization. Its Buildx decentralized undisputable supply chain for homes will make houses more affordable by delivering building materials via open-source digital building system. The flexibility of standards, emphasis on cost-minimization, and housing availability for all will resolve housing crisis in the UK dictated by high costs and lack of space. Wiki-house's participative friendly nature attracts many contributors to design modular and human-friendly homes whereas open-source sustainable architecture is now on its way to conquer the world, deal with space problem, and become a Github of the construction industry.

Ecocapsule
Open Source Ecology project was founded in 200 aiming at bringing construction industry to a new level with its global village construction set. With its focus on shared-vision and collaborative work, OSE created blueprints of construction tools that can be easily assembled to cater the local needs. The unique blend of vernacular architecture and technology enables making brinks from local materials such as dirt. The concept will help economy and innovation thrive. OSE's affordable and sustainable housing irons out the space problem and returns modern architecture to its traditions, supports unity with nature and grants freedom of lifestyle and living.
Running out
of space
Bjarke Ingels with his "ancient temple", eco-capsule, Eastern vernacularity, micro-flats, and garage-like houses – all of these solve the problem with spaces. United Nations predicts that population will increase to 8.4 billion by 2030 and continue its growth to 9.7 billion in 2050. By 2025, 70% of Chinese people will live in cities with 400 million more urban inhabitants – that is higher than the population of the USA. A situation is similar in India where urban population will add another 200 million, and that equals to the size of Spain.
The world is starting running out of space, and urban areas become even more crowded while driving the rent prices high and polluting the area. Regionalization and usage of local materials, supported in vernacular architecture, address the problem of overpriced living spaces where people have to find ways to make their living comforting and inexpensive. "Affordable, sustainable, space-effective, and stylish" are new architectural tendencies, and innovations such OSE, Wiki-house, and eco-capsule and the return of ancient best practices are the ways to resolve the lack of spaces, emotional distress, and eco-problems.