5 minute read
The parenthood starting time postpones from the twenties to thirties and forties. It signals that parents are more mature and have a more stable financial situation. This development allows the children products and service markets to grow. The article looks into advanced parenthood and the switch in the childhood goods and services purchases.
Adult
mature parenthood
Office for National Statistics reports that the only age group with rising pregnancy rate are women in their 40s. The research shows that children of more mature parents are more stable psychologically and are better off. The reasons for this is that more adult mothers are as a rule higher educated, more experience in dealing with the critical life situations. "Nowadays children of older mothers have, on average, better outcomes because of the characteristics of women who tend to have children at older ages," says Alice Goisis, a research fellow at the London School of Economics and Political Science and the Max Planck Institute for Demographic Research in Germany.
Studies from all over the world support Dr. Goisis's results. A British study has shown that there is a correlation between maternal age an children's cognitive abilities. Investment into family well-being shows an opportunity for more socially developed society. In progressive countries such as Scandinavia and Europe, there is a subsidized childcare, flexible hours and new parental leave policies. However, next to later parenthood maturity, new markets for fertility open up.
The innovations and extensive research in female health in the last couple of decades expand opportunities for women. More women are deciding to freeze their eggs between the ages of 27 and 35. Some companies took this trend for grasping the best talents. For instance, Facebook offers up to $100,000 in IVF charges, while Google and SalesForce offer up to $75,000. The structure of the employment benefits for women will change in the future. During 2016-2017 there have been 13 000 assisted fertility treatments covered by the government in Finland. About 18% of them resulted in the birth of a child.
Similarly, Singapore has the co-funding for assisted reproduction technology treatment that covers up to 75% of the treatment for its citizens. At the same time, Japan is limiting access to subsidies for fertility treatments. Since 2016, only couples with a woman under 46 years old are eligible for the subsidies. In 2012, 135,000 couples received the subsidized treatment with a budget of $177 million. Many women see the policy as a pressure to have children at a younger age.
Fertility market
According to EMS Serono survey, women in the US plan to have children later in their life than their mothers. There is a common understanding that such increasing age affects fertility. Nevertheless, the options to utilize infertility services are highly accepted by new generations. At the same time, research showed that there are certain misconceptions about the pregnancy and fertility levels after the age of 35. There is a need to educate the population in the areas like the effect of age, hormonal contraceptives on infertility, as well as common methods of reproductive technologies. The fertility market is expected to reach over $30 billion by 2023, which is double what it was in 2016.
The cost of IVF treatment is upwards of $20,000. The price creates an access barrier. The Human Fertilisation and Embryology Authority expressed concern that clinics are offering unnecessary costly add-ons to clients' treatments that do not increase success chances. As the demand for the treatment is not elastic, many firms take advantage of the market. The authority calls for a cultural change: "Patients deserve consistent, evidence-based treatment. Failing to provide this poses a significant risk to patient trust and to clinical innovation itself." The statement is based on the YouGov survey that found that 62% of private clinic patients had paid more than they had expected to, compared with 23% of those who had visited an NHS clinic. There is a need for better standards in the industry and stronger regulations as the market continues to bloom.
The childcare
As the age and socio-economical position of parents both increase, there is a demand and opportunity to develop better childcare services. While in Nordics the services are a plan of governmental support, many countries leave the weight of childhood on the shoulders of their parents. When the average age of having a firstborn is in their thirties, parents are more affected by the change of the sleeping hours and daily routines. They are more aware of the impact of healthy nutrition to the growing body. The global enteral nutrition market will double from $5.66 billion in 2017 to $10.48 billion by 2025.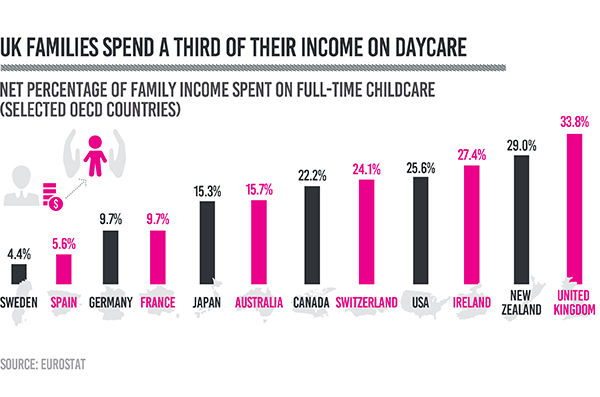 For instance, research shows that mothers in their thirties tend to have a longer breastfeeding period than mothers in their twenties. Moreover, mature parents pay more attention to pre-school education. Studies show that kids in the intense preschool education are more likely to graduate, less likely to be arrested to struggle with a substance abuse as adults. Thus, as the share of families being able to afford the pre-school for their children grows there is a drastic impact on the next generations intellectual abilities.