6 minute read
The world keeps getting more globalised due to advanced technologies which make different countries and cultures more accessible to an ever-wider population. It is becoming a norm for people to travel and live in multiple countries during their lives, and even to own multiple different nationalities. With all of the possibilities this mixing of cultures provides, it can also result in an identity crisis especially in young adults that are only beginning to bridge the gap between cultures.
Using DNA to map our ancestry
In order to find one's cultural identity, a common trend has emerged where people use genealogy to find their ancestral roots. Companies such as Ancestry and Findmypast provide DNA tests that consumers can take at home to find out where they are from. In the beginning of 2019, over 26 million people had already submitted their DNA into commercial ancestry databases. The spit or mouth swab tests can cost as little as 59 dollars and can reveal distant ancestors or unknown relatives.
British company Findmypast also offer DNA tests that look specifically at maternal and paternal ancestry and offer interactive maps that show how ancestors have migrated over the past 80 thousand years. These tests not only map results across 80 global regions but can also pinpoint where in Britain and Ireland the consumers descend from. To provide further insight into ancestry, a subscription to the company's services gives access to ancestral stories from the world's largest archive of relevant historical records. Even contacting living relatives becomes possible with these services.
A serious privacy issue rises with these services when individuals start to find lost relatives who haven't given their information or DNA for these companies. The companies of course address this issue by giving their users the right to choose what information can be shared with others and what cannot. Still, as the databases grow, these companies will be able to trace nearly all relationships within populations, even if they have never given out their information. This information can also be used by the police to investigate crimes based on the DNA of the perpetrators and the victims. Due to humans' curious nature, consumers may uncover truths they would have rather kept hidden.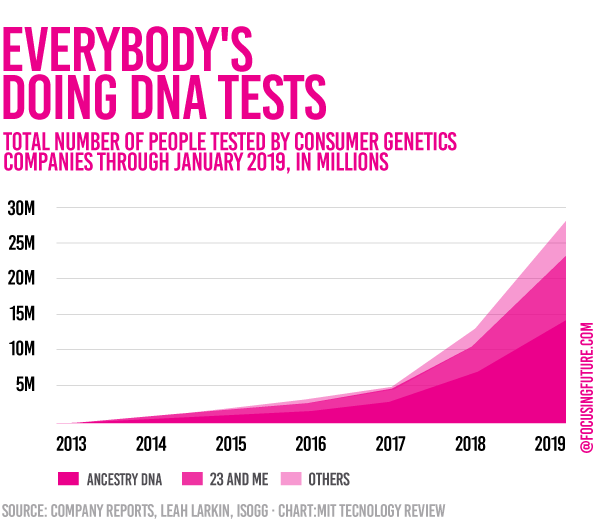 Travelling into the homes
of our forefathers
After finding out one's ancestry, consumers often want to go explore the cultures, traditions and stories of their forefathers to find new sides of their own identities. Cultural heritage tourism as defined by the American National Trust for Historic Preservation refers to "traveling to experience places, artefacts, and activities that authentically represent that stories and people of the past and present." Hence, heritage tourists want to get more deeply immersed in the regions they explore as well as in the culture and its traditions. The direct global value of culture and heritage tourism is currently over 1 billion dollars, which proves that travellers want to learn about either their own heritage or someone else's.
This kind of heritage tourism can be very good especially for locations that are less known around the world but have a rich and strong culture and traditions. The growing tourism in these places offers jobs and money into the sites to help them keep up the traditions that they are becoming known for. However, the dark side is brought out by overtourism which takes away the charm of the authenticity of the area. Simultaneously, most heritage sites are special due to the traditional ways of living that cannot simply support masses of people coming to see the place. The challenge is to balance authenticity and tradition with overmarketing that can damage and alter the site while making it suitable for tourists. On the bright side, the publicity of heritage sights can also promote the conservation of the sites and the preservation and protection of local traditions, customs and culture, which makes them irreplaceable.
Flavour journey to another world
The heritage trends are not only limited to travel but to all cultural experiences, most importantly food. As UNESCO Director-General Audrey Azoulay said: "Food is of great importance for our work in the cultural field because it is at the heart of the feeling of belonging, it reinforces social cohesion and it allows transmitting heritage in all situations." What a better way to learn about your past relatives than exploring the cuisine they used to eat.
Research by Barilla Centre for Food and Nutrition revealed that food trends in 2030 highlighted the importance of an orientation to the past, and local and authentic produce. These trends promote environmental sustainability as well as different regions' agrifood heritage. Food will need to be able to tell a story which is built from the culture and traditions of the ingredients' places of origin and of the people who have been involved in the production. As popular as both these trends may become, consumes need to realise that due to highly industrialised food production, producing food in these ways will become more expensive. There is simply too little workforce and time to provide authentic and local foods to the growing population in this world. It will be a challenge to solve these issues if the trends remain popular in cities populated by millions.
Related to these future trends, authentic street food has gained popularity as it offers consumers culinary experiences that have earlier been only possible in the countries of origin. Even though the ingredients to most of these dishes may not be local, consumers still get a flavour trip into new cultures along with a possible chat with the chefs.
Venturing deeper into our ancestry, the Paleo diet has become a trend which follows the diet of our Paleolithic ancestors. The diet was created as a response to increasing diet related diseases such as Type 2 diabetes, heart disease and chronic obesity .The theory suggests that our bodies have not yet evolved to accommodate the industrial food we produce, and suggests that we should eat more like our stone aged ancestors. The diet eliminates all processed foods, restricts carb consumption and relies mostly on grass-fed meats, fish and seafood, and fruits and vegetables that our ancestors could have used before grocery stores existed.