5 minute read
Sales are becoming more automatized with AI, but there is still a need for specialist advice. This role will be taken by independent consultants who continuously develop themselves. Premium customer service will be paid for, especially when the salesperson offers inspiration. Will sales as a profession survive the technological revolution, and become better than before?
The downfall of sales
Sales as a profession is struggling. A survey by Harvard Business Review indicated that 63% of sales representatives are failing at their job. Within the next 20 years, AI will replace 95% of all jobs related to the field. AI is simply better and faster at delivering additional data and automating tasks. For this reason, the adaptation of AI in sales will grow 155% by 2020. The future of sales management is a combination of human expertise and insights provided by AI. The human task moves towards managing the team and increasing the efficiency of the processes. According to the Conference Executive Board, a shipping giant changed their salary model from the total value of sales made to the number of team members hitting their individual targets. With the next generation of workers, the personalized attitude to employees and nurturing of their development is the secret for an effective sales strategy.
A typical B2B buyer does over 60% of the research needed for a purchase without the help of a salesperson. This is linked to a time-consuming human contact, higher education levels of customers, and mistrust to sales personnel. Forrester showed that 75% of buyers believe that making a purchase from a website is more convenient than buying from a salesperson. Perhaps the reason is that the majority of buyers trust online reviews more than the advice delivered by sales advisors. By 2020, 85% of customer interaction will be performed without human contact. For instance, Bridgewater Associates, the world's largest hedge fund managing  $160bn, is currently in transition from human sales managers to artificially intelligent software replacement.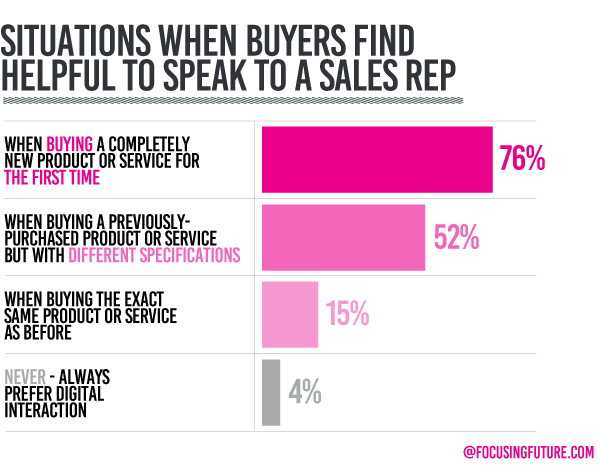 These developments change the role of sales in the eyes of the customers. When making decisions, customers are looking for advice from independent consultancies. Thus, independent platforms are created which can provide the service to make the right purchase. Management consultancy is expected to grow up to be worth 158 billion USD, which is 25 billion more than in 2016. The most effective sales advisors will be kept in the industry, as they will be more specialized in what they know. These individuals will need to keep educating themselves alongside their work to be able to offer unique insights to their customers, ones that information online cannot provide.
At the same time, McKinsey claims that within the next five years, the fastest growing companies would be ones that use machine learning and advanced analytics in their decision-making process. AI can come to help in deciding what to invest in, which sales opportunities to take, and what actions to take in order to increase productivity. The next step is the creation of accurate customer profiles, which are augmented with external data, like public financial information, social media, and news reports, to enable more segmented services. The ability to combine knowledge with experience turns regular salespeople into high-ranking consultants building long-term relationships.
The power
of communication
Studies have shown that 60% of customers would pay more for better customer service experiences. These numbers are even more critical when as the volume of sales increase. The role of the salesperson is to find a correct approach to their client's demands. Therefore, utilizing the available data is crucial for B2B sales success. Bhavesh Vaghela, Chief Marketing Officer at ResponseTap, a market leader in call-based marketing automation, insists on data utilization: "If companies want to stand out from the competition, they need to start collecting customer data more efficiently, from all relevant channels. Only by making customer data widely available within your company (so that it can be analyzed by various departments) and by understanding the customer journey from a holistic point of view, can companies begin to create the kind of personalized, omni-channel experience consumers have begun to demand."
Harvard Business Review underlines the importance of leading the conversation with the right amount of questions. Best-performing sales people scatter 11-14 questions within a sales interaction to make the situation feel more like a conversation than an interrogation. Additionally, the salesperson needs to listen more, and thus speak less than their client. This behavior makes the client feel more comfortable and therefore is also strongly related to higher conversion rates.
As Bhavesh Vaghela suggested, B2B Companies are following in the footsteps of B2C sales by providing 24/7 omni-channel access. Würth, for instance, offers an omni-channel experience that reaches both online and offline customers. Sales assistants in stores are connected to the online store app with their iPads, and online shoppers can click-and-collect the product from a nearby store in 60 minutes.
Future salesperson
as an inspiration source
Sales companies need to evolve according to the current needs of their clients. Regis Lemmens gave a sneak peek into the future of sales in a Ted talk in Liege, 2014. According to him, instead of sales advisors persuading their clients, they need to learn how to collaborate with them. Salespeople will become professionals who get paid for inspiring people. Instead of trying to sell a product to customers, future salespeople will facilitate experiences where clients get to try new products, and afterwards, both parties together have a brainstorming session of how the company could use the product for their advantage. Or even better, the selling company could customize the product especially for their clients in a way that benefits both parties. Another possible task for current sales professionals could be linking their clients to experts who can offer a unique service to the clients. This way sales would help in developing a more extensive, functional ecosystem. Thus, salespeople would be suppliers of experts.