6 minute read
Artificial intelligence will soon be part of our everyday lives, be it in the form of robots or the operating system which will always be with us. Some of the biggest names in the technology industry have dedicated a considerable amount of resources to perfect the AI. Similarly, private companies have dived into the trend offering innovative alternates and approaches. This article lists down some of the incarnations of AI we might see within our households in the next decade.
Robots that Housekeep,
babysit and beyond
As we dedicate more time to ourselves, to pursue our passions and to work to our capacity, robots will take over the most mundane but truly essential tasks of housekeeping. Rob Coneybeer, co-founder and managing director of Shasta Ventures, believes that the housekeeping robots will be humanoid, much like described in Isaac Asimov's book I, Robot. His prediction might be spot on given how humans have shaped the processes of chores that best suit our form factor. The robots of the near future will be mobile and will provide a physical presence rather than just being voices. Some examples of such robots were already revealed at CES 2017.
The Chinese firm, Ubtech Robotics, launched Lynx, a home robot that has Alexa integrated into it. The robot is humanoid and can walk around, dance and even teach yoga. It can also act as a caretaker for pets or babies who would need a soothing tune to be played. According to John Rhee, the General Manager of Ubtech North America, Lynx has an 'unparalleled facial, image and voice recognition, emotion detection, and lifelike robotic movement, seamlessly woven together for a truly humanlike experience'. The robot is already scheduled to be available for purchases in Spring 2017 at an estimated price of about $800.
Kuri, a robot designed by Bosch's startup Mayfield Robotics has some more features that make it even more appealing. For example, it has been designed to look cute. The cuteness has been integrated into the voice and its eye responses. While the company has not claimed it as a replacement for pets, the robot, given its personality and capabilities could be seen as a future companion. Moreover, the 'Kuri vision' of the robot enables it to record everything happening around it, capturing candid moments which would otherwise be missed. The recordings can be dedicated to certain people in the family or for everyone and are available on the robot's application. Kuri too is already available for presales.
However, the robots and their capabilities will be changing before they become integral parts of our lifestyles and nothing stands testament to that like the shelving of Aristotle, a robot designed by toy company Mattel. Designed to act as a babysitter, the robot was supposed to grow with the child, however, due to the amount of data it collected, many were critical about the child's privacy. A petition of over 17,000 signatories, organized by Campaign for a Commercial-Free Childhood, demand its ceasing. Earlier this month, the company gave in to the pressure and while cancelling work on the project, declared that Aristotle did not 'fully align with Mattel's new technology strategy' and hence would not be '[brought] to the marketplace'.
Smart homes
that think for us
The future homes will be smart homes. In 2014, the revenue of the global smart homes market was at 20.38 billion U.S. dollars. The source projects the market to grow to 58.68 billion U.S. dollars by 2020. We already have a taste of the technology in products such as Alexa, google home and Bixby. Smart appliances will adjust according to one's preferences automatically. The transition of the ecosystem would be seamless with one application being run across numerous smart devices within and outside one's home. According to Mike Yurochko, Co-founder [&] CEO of Stringify, 'Homes will be far more efficient in energy/water/utility consumption as endpoint devices work together based on your habits vs. the cost of resource availability. Beyond appliances, homes will ask for maintenance checks for everything from air filters and pool equipment to clogged gutters and foundation anomalies.'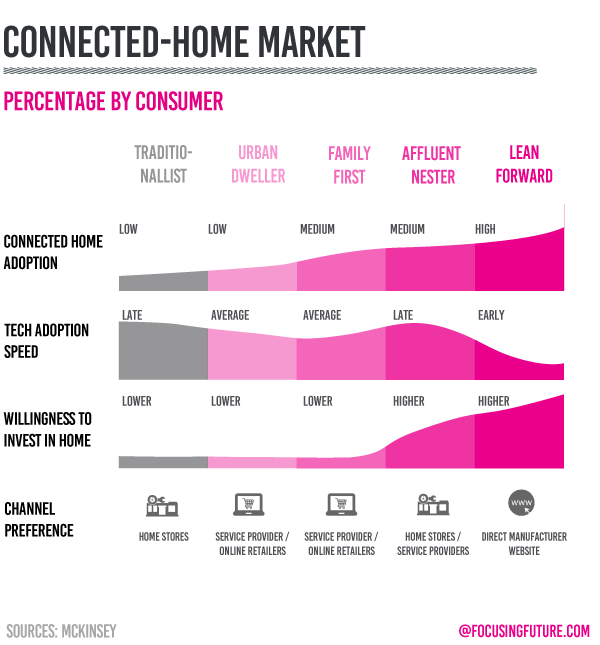 Future homes will be so dependent on these smart systems that IHS Markit estimates that up to 34% of American households will have at least one smart home device by 2025. This, in itself, will revolutionize the real estate market which will boost things like Smart lighting systems such as Lifx which can change shades according to moods and are fully controllable via mobile applications, Nest thermostats which adjust home temperatures to suit one's preference while saving costs and of course Alexa-like module integration. As most of the technology is already available, the defining feature of the next few years would be their adaption and integration in general home settings. This will be accelerated due to new market entrants who can offer similar services at more reasonable pricing models. The smart systems would also be integrating with physical robots which will basically transform into butlers and prepare our home choices even before we think about them.
Consumer trends
defining the future of smart assistance
Companies that set out to target this market need to focus on the demands of consumers. Carley Knobloch, technical consultant at HGTV Smart Home insists that 'consumers are voting again and again [through their purchases] for devices that offer peace of mind and anticipate their needs'. In other words, as consumers devote their time, energy and attention on other activities, they are outsourcing stress-inducing activities onto robots. The trend is obvious in self-driving cars which, besides taking over the monotonous activity of driving, also offer services like automatic braking and parallel parking, which can be stressful for some people.
The technology of the future, in that sense, will contribute to the peace of mind of humans, making them more relaxed and hence healthier. Similarly, a research study conducted by Scripps Networks Interactive reveals that safety and energy efficiency are two of the strongest motivations behind turning homes smarter. Hence, it can be understood that companies that add capabilities to provide security solutions and the effortless Internet of Things connections, will see a rise in popularity in coming years.[nbsp]