5 minute read
How will health care change with the development of technology? Collective intelligence and blockchain open new doors to high-quality treatment, advanced research, and accurate diagnosis, leaving mistakes in history. Future developments aid both patients and doctors, and the aim is to be able to provide equal, high-quality healthcare to all people. What will the new problems look like?
AI and social intelligence
for accurate diagnosis
Medical errors cause 251,000 deaths every year in the US solely. Misdiagnosis takes place in 8-12% of hospitalizations in Europe and is becoming one of the top causes of death worldwide. Various reasons like fatigue, the lack of education, and overcrowded hospital spaces make giving accurate diagnosis difficult. In South Africa, 25% of patients are misdiagnosed and wrongly triaged. In response to this issue, doctor Mohammad Dalwai founded The Open Medicine Project South Africa (TOMPSA). Its Mobile Triage App assists nurses to prioritize injuries and perform a triage in the right way. Whereas to enhance the accuracy of diagnosis, TOMPSA has recently introduced HIV Clinical Guide App and GeneXpert Support App to treat HIV and tuberculosis on time. These illnesses have 60% of confection-rate posing a significant threat to the region, and addressing them becomes one of the top priorities for national health.
Additionally, the complexity of certain diseases like fibromyalgia, multiple sclerosis, and lupus makes them hard to diagnose. This difficulty becomes another threat to global healthcare along with self-diagnosis. In 2013, 59% of adults in the US used their gadgets to check for medical information, and 38% decided that there is no need to consult professionals after their Internet search. The consequences of self-diagnosis are diverse from insignificant errors to severe health complications. The lack of time or access to healthcare perceives self-diagnosis as a well-weighted solution. CrowdMed redefines its nature. This platform enables high-quality assistance at hand without leaving home. Simply filling out the questionnaire uploads a unique case to the website and gives a possibility to unveil the mystery of an unknown condition. Taking advantage of the collective intelligence of talented experts makes diagnoses accurate and brings consultation to a next level. Multidisciplinary doctors available online helped CrowdMed gain its recognition in the healthcare segment. Since 2013, CrowdMed resolved hundreds of cases while making healthcare available to everyone.
Open-source and digitalization are the driving forces of the healthcare industry – CrowdMed and TOMPSA are the examples of their application. Embracing the beauty of data and its access upsurges people's awareness about their conditions and decreases medical errors and interest in self-diagnosis. Taking advantage of apps and indicative tools is a new prevention strategy. With digitalization of healthcare, reduction of misdiagnosis cases is highly reachable. Whereas adopting digital solutions internationally is a pathway to superior and safe assistance with high access rates globally.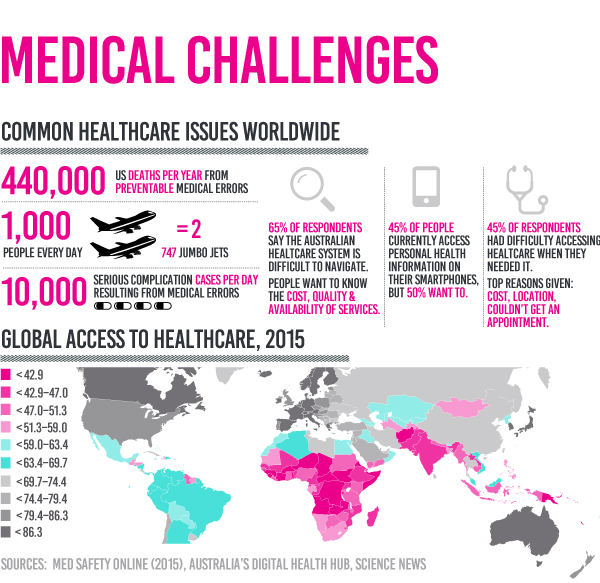 Using people capital
for scientific research
Since 2050, drug-resistant infectious diseases are forecasted to kill 10 million people annually. United Nations Environment Assembly sees a spread of antibiotic-resistant bacteria as one of the major eco-threats. Involving more people in the research becomes critical. With crowdsourcing on the rise, it is now possible to explore this problem in more detail. For example, a crowd-sourced study among surfers revealed that people fond of this sport and other water activities were more exposed to antibiotic-resistant bacteria – E.coli. Its presence in one's gut might lead to the development of dangerous medical conditions like meningitis and urinary infections. The effectiveness of crowdsourced projects led to their spread worldwide – Murphy Lab at UIC started attracting locals to their researches to discover new antibiotics. There are many reputable institutions focusing on crowd-sourcing across the UK and US. Joe Shelby, executive director of Patient-Centered Outcomes Research Institute, sees the bright future behind crowd-sourcing. "Engaging patients and other healthcare decision-makers in identifying research needs and guiding studies is a hallmark of our patient-centered approach to research, and crowd-sourcing offers great potential to catalyze such engagement", Shelby claims. Involving people capital becomes a new major trend defining the future of research, helping the society reach global health goals. The data-driven reality unveils a curtain to the digital healthcare world.
Augmented healthcare future
The Internet of Things and AI give a kickoff to digitalization and require medical professionals to reconsider innovations in this sphere. While healthcare plans become crucial parts of the infrastructure of smart cities, and to be embedded into the urban environment. Smart open-source healthcare is on the rise with cloud, big data, AI, and robots as groundbreaking forces. These tech-based innovations are projected to improve detection of illnesses, focus on decision-making based on evidence-based practice, and treatment on time. Australia and the USA have already started active investments in these initiatives. For example, the OpenMRS community sees the future behind Health IT. Currently, this project works on the creation of an international and highly flexible healthcare platform to ensure rapid and equal delivery of healthcare assistance to different parts of the world.
In the USA, electronic health record (EHR) is the major instrument to store and share patients' data. Now, more than 50 open-source EHRs are obtainable for active usage in the medical sphere. Blockchain technology could systematize patients' data and store it logically in one space – any change in healthcare records will be approved, united with previous data and adjoined as another block. As a result, doctors will have a full image of patients' conditions – more precise diagnosis will be the major consequence in this case. Thus, the future of healthcare is unpredictable with a lot of buzz around it – the sci-fi scenes projected soon to be a reality. High volumes and access to patients' information make healthcare and medicine data-driven and society-oriented. But, simultaneously, this raises the questions: "Will blockchain and EHR violate privacy and enable leakage of personal information? How to find a right balance?"